This post might contain affiliate links
I love to interview experts that own certain products that I have tried and loved! ❤️
Who better to ask about it than the founders and formulators themselves?
This interview will give you some information about WHAT is lurking in our skincare products, WHY you should absolutely question this industry, and why going organic, pure & non-toxic should be a TOP priority for you and your family! ☠️
????????
  Check out more info on
Purity Woods
here:
https://bit.ly/3x0FSme​ 
???? Video Transcript:
Andrea (0:19)
What's going Wellness Seekers, I am here with Mr. Brian, I'm going to start calling you Mr. Brian. And he is the creator of purity woods, which I know it's hard to see with my camera, but it's the product that you're looking at right now on Wellness Clarity. So I just wanted to do a very quick introduction to Brian, and have him tell us why he created Purity Woods and what it is, and why you should be trying it out.
Brian Vaszily (0:42 )
Well, thanks. Yeah, Brian Vaszily I know why you're avoiding it because you don't know how to say my last name. You said it in different ways just like yours. Like we said it's Hungarian. So it basically rhymes with Paisley. And I truly appreciate you giving me this opportunity to chat with people. So yeah, Purity Woods is USDA-certified organic skincare products. Real quick. I stress USDA-certified organic because that makes a big difference. People may or may not know the extent of how bad it is with cosmetics out there containing toxic ingredients, synthetic ingredients, known endocrine disruptors, known carcinogens. It's really bad. It's a highly unregulated industry. Real quick, by way of example, 1300 chemicals banned in the European Union, from cosmetics and personal care products and only 11 here in the United States. And I can go on and on. But the bottom line point is, please be ultra-careful if you do choose these products because they can certainly be behind all kinds of symptoms that you may experience ranging from fatigue to dizziness to stomach issues. Because again, these are synthetic products. Anyway, knowing that, and being involved in this industry and research now for decades, frankly, I went looking with my wife for a really clean, safe, and highly effective, anti-aging skincare line because, well, frankly I'm starting to get some crow's feet and lifelines and stuff like that, I couldn't find it. I found other products in the personal care space are really good that were USDA-certified organic, but not specifically those. So we said okay, I have a ton of knowledge about some really great ingredients, we worked with some excellent, exceptional formulators and we created it, we are our own first customers with the age-defying dream cream you have right there. It contains a number of researched-based highly effective natural ingredients that really really are healthy things to feed your skin that really do work towards your benefit in terms of looking as young as you're, frankly, as you're meant to. And the good news is for so many people, they are not just, trying to look like you're 20 years younger, that's unhealthy. But when people feel like man! My skin could be better. It's true in most cases because we spend a lifetime (many of us) have some pretty bad habits that age faster. The good news is that skin is probably the most if not one of the easiest things to quickly change on your body when you start feeding it the right stuff and the right stuff coming from me of course but I'd love people to try it themselves and see the right stuff is in these products that you just held up there including the age difference
Andrea (3:51)
Awesome and really quickly is this safe for all skin types, would you say?
Brian Vaszily (3:54)
It is. It is safe for all skin types, it's not greasy as they call it, I mean people love it. One thing you won't find in this out of many other bad ingredients is fragrance, which basically indicates fake synthetics instead the smell you smell with it is actually the smell of maple leaves. Why? Because those are some of the most effective ingredients here Maple Leaf extracts are in this and they were found to very significantly help boost elastin which is one of the two key secrets to great skin the other one being collagen and it's got some of the mightiest vitamin C's ingredients on earth that helped the colleges so it's fantastic products and I so appreciate you putting the spotlight on it like this.
Andrea (4:43)
Yeah, absolutely. And that was the first thing that I noticed when I opened it up. I was like "Ooh!", it's kind of that sweeter taste and it's even got that color too, so fantastic. I love putting things on my skin that are only going to help me, not harm me, and as you said it just, it's disgusting what's in skincare products out there. So, thank you for bringing this line to us. And I'm so happy that I got to just kind of pick your brain for a few minutes. So thank you and guys go and check it out.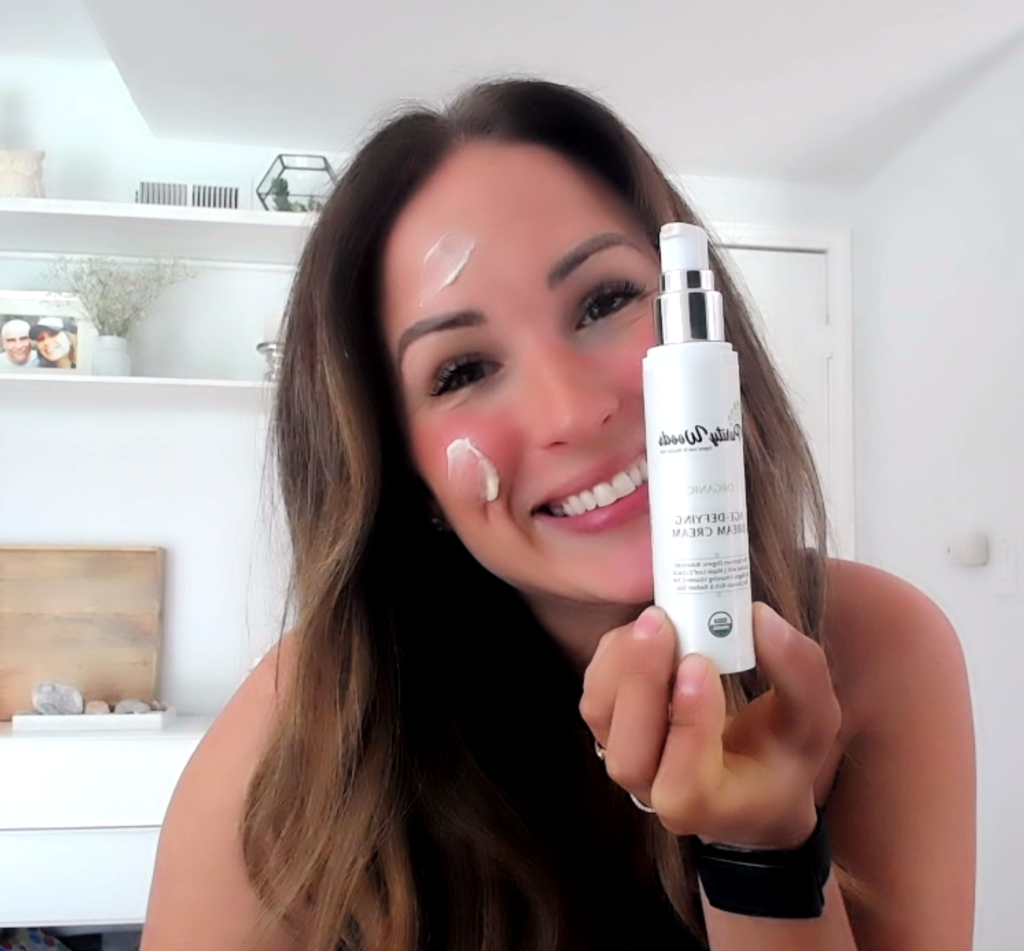 ???????? Check out more info on Purity Woods here: https://bit.ly/3x0FSme​
✅ Comment below what you think about this blog/vlog! 
✅ Have any topics you want to learn about? Let me know in the comments so I can create content you will love! ????????
????‍♀️ Stay connected with me & this wonderful tribe ????‍♀️:
????Step-by-step Shopping Guide Cheat Sheet | http://wellnessclarity.com/cleanlivingclarity/
???? Instagram |  https://www.instagram.com/andreatheco…​
???? Facebook | https://www.facebook.com/AndreaTheCon…​
???? Women's Private FB Group | https://www.facebook.com/groups/82268…
*Please note the following medical disclaimer: By viewing this video and/or blog/text you understand that it is for educational purposes only. It is not intended to substitute for professional medical advice and should not be relied on as health or personal advice. Always seek the guidance of your doctor with any questions you may have regarding your health or medical condition. You also understand and agree that the terms of our Privacy Policy and Terms of Service apply to your interaction with us.
*Affiliate Disclaimer: I frequently talk about products and services that I love and trust. Sometimes there is an affiliate link mentioned. This allows you to get a higher discount (most of the time) than you would find online, and I get paid a small percentage of the sale, which allows me to employ my team and keep Wellness Clarity alive! We all appreciate your support and it is my promise to NEVER promote anything I do not use myself or truly believe in!